This review is spoiler free.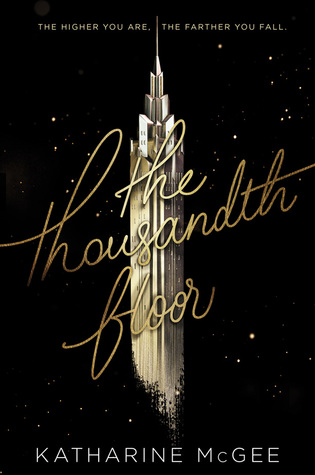 Plot: This book has been compared to Pretty Little Liars and Gossip Girl. The year is 2118 and Manhattan has been transformed into a thousand floor tower. This book follows five perspectives. Three perspectives are from upper tower girl, Leda, the girl with a secret addiction to both a drug and a boy she shouldn't have touched, Eris, whose carefree life falls apart due to family betrayal and Avery, who lives on the thousandth floor genetically designed to be perfect, but has one imperfection no one can know about. The book also follows two lower tower perspectives, Rylin, a lower floor girl whose new job on an upperfloor changes her life and Watt, a tech genius who becomes a spy for an upper floor girl, but it's more complicated than he imagines.
Overall: I feel like this book is worthy of it's comparisons. Just like with Gossip Girl, I found myself not caring about certain characters plots. I wasn't a fan of Watt's perspective and didn't feel like Rylin add much in this book, but that may change in the next book. I found myself really interested in Avery and Leda's perspectives the most; I found myself looking forward to chapters with them.  I did figure out who died the beginning of the book, but it took until almost the end to figure out what exactly happened to her. I can see the drawbacks for this book as it is a drama filled, but that's exactly what I was expecting from it's comparisons.
Rating: 4 out of 5 stars.
I read this book as a part of my debut books challenge.